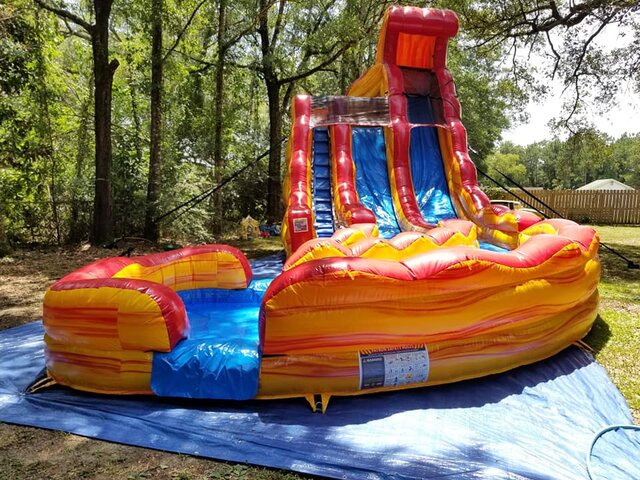 18ft Dual Hot Lava W/ Pool WET ONLY
**What's Included:**
1. **The 18ft Dual Hot Lava W/ Pool:** This eruption of fun features two adrenaline-packed slides that descend into a refreshing pool, all capturing the fiery essence of a lava flow. It's the ultimate splashy escape from the heat.
2. **Complimentary Eruption Delivery:** If your event's epicenter is within 10 miles of our Pelham, Alabama base, the lava flow comes to you free of charge! Beyond that, a nominal delivery fee applies.
3. **Expert Caldera Setup & Takedown:** Our trained team will ensure the Hot Lava Slide stands tall and safe. Post-event, they'll drain the lava (water) and carefully pack up the excitement.
4. **Magma-Level Sanitization:** Every slide undergoes a rigorous cleaning process, ensuring you're sliding into pure, unadulterated fun, free from any contaminants.
5. **24/7 Volcanic Support:** Have a burning question or need a quick assist? Our ever-responsive team is on standby, day or night, to keep the fun flowing.
6. **Safety Lava Flow Instructions:** All adventurers will receive comprehensive guidelines detailing safe and enjoyable usage of the slide, ensuring every splash is a happy one.
7. **Optional Fiery Enhancements:** Ignite the atmosphere with add-ons such as volcanic rock props, tropical music playlists, or even faux smoke machines to emulate a volcanic eruption!
8. **Gratitude for the Lava Handlers:** Tips, though not mandatory, are a warm gesture that our hardworking setup and delivery crew deeply appreciate.
Get ready to slide into a world of exhilarating wet fun and make your event erupt with joy! Book the 18ft Dual Hot Lava Slide with Pool today, but remember, it's for WET adventures only!