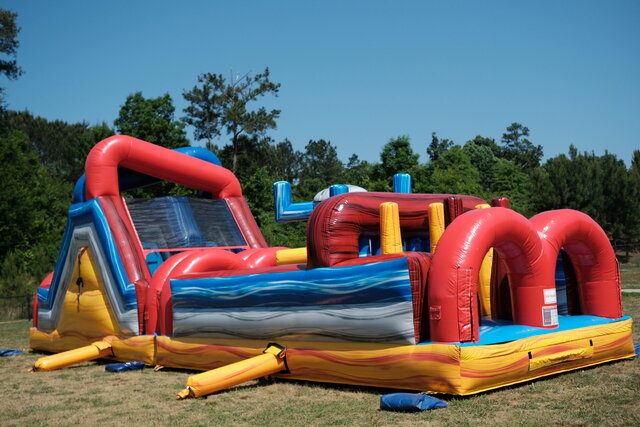 Fruit Roll up Obstacle Course w Dual Slides (DRY ONLY)
Actual Size: 11'6"W x 40'L x 13'7"H




**What's Included:**
1. **The Fruit Roll-Up Obstacle Course:** Journey through a cascade of fruity fun with obstacles that mirror your favorite fruit shapes and challenges. From banana beams to apple arches and watermelon walls, it's an imaginative and lively ride from start to finish.
2. **Free Delivery:** If your event is set within a 10-mile radius from our Pelham, Alabama location, you're in for a treat with our free delivery service. For venues farther away, a minimal delivery fee applies.
3. **Setup & Takedown:** Let our experienced crew take the reins. They'll ensure the obstacle course is safely installed and ready for action. Once your event concludes, they'll manage the takedown and packing seamlessly.
4. **Sanitization:** Cleanliness is paramount. The Fruit Roll-Up Obstacle Course is meticulously cleaned and sanitized prior to and after every booking, ensuring a safe and hygienic experience for all participants.
5. **24-hour Support Team:** Be it a last-minute query or a midnight concern, our dedicated support team is just a text away, ready to assist anytime.
6. **Safety Guidelines:** Along with the fun and excitement, we ensure all participants are well-informed about the safest ways to tackle the course. A set of safety guidelines is provided to every renter.
7. **Optional Add-Ons:** Want more fruity fun? Explore add-ons like themed props, fruit-shaped balloons, or even a splash zone for summer events to enhance the overall experience.Gratuity for our setup and delivery crew, though not mandatory, is always a kind gesture appreciated for their diligent service. Infuse your event with a dose of fruity fun and delightful challenges by booking the Fruit Roll-Up Obstacle Course today!