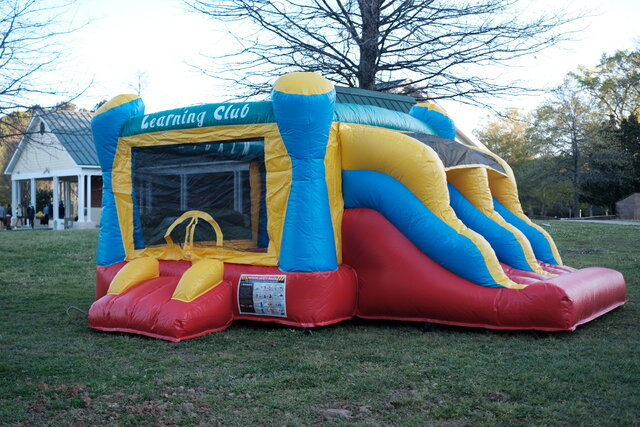 Toddler Combo Unit
Setup Area: 10W' x 12L x 10'H
Outlets: 1
Age Group: 0-4
Attendants: 4




**What's Included:**
1. **The Toddler Combo:** A delightful blend of a bouncy house and a toddler-friendly slide. It's the perfect size for young children, ensuring they have their own special place to play.
2. **Complimentary Delivery:** Events hosted within 10 miles of our Pelham, Alabama location enjoy our hassle-free delivery at no extra cost. Those beyond this range may incur a minimal delivery charge.
3. **Professional Setup & Takedown:** Our team is trained to set up the Toddler Combo securely, ensuring the utmost safety for the little ones. After your event wraps up, we'll take care of the takedown, so you can rest easy.
4. **Sanitization Guarantee:** The health and safety of your children are paramount. We make sure the Toddler Combo is thoroughly cleaned and sanitized between rentals, offering a hygienic play environment for every event.
5. **Round-the-Clock Support:** Our dedicated team is available 24/7, ready to address any questions or concerns you might have, ensuring your experience is seamless.
6. **Safety First:** All our rentals come with a set of safety guidelines. These will guide you on how to ensure a safe play environment for the toddlers throughout the event.
7. **Customizable Experience:** Depending on the theme of your event, we offer optional additions, from balloons to banners, ensuring the Toddler Combo fits right in.
8. **Gratitude Gesture:** While it's not obligatory, our setup and delivery crews always appreciate any tips for their commitment to making your event a success.
Give your little ones the joy of a play area designed just for them. Book our Toddler Combo for your next event and watch those tiny feet jump with glee!